CEP Low Cut Men's Socks 3.0 White
| WP5A8X
We send by courier:

24h
| | price: | shipment: |
| --- | --- | --- |
| Courier (upon receipt) | 18.90zł | 24h |
| inPost paczkomaty | 12.90zł | |
| Courier (prepaid) | 14.90zł | 24h |
| Proshop Kraków: | 0.00zł | upto 3 working days |
| Personal pickup: | 0.00zł | |
Shipping cost by inpost: from 12.90zł
| | price: | shipment: |
| --- | --- | --- |
| Courier (upon receipt) | 18.90zł | 24h |
| inPost paczkomaty | 12.90zł | |
| Courier (prepaid) | 14.90zł | 24h |
| Proshop Kraków: | 0.00zł | upto 3 working days |
| Personal pickup: | 0.00zł | |
Description
Skarpety kompresyjne
3.0
są jeszcze lepiej dopasowane do stopy. Mają specjalne strefy, które amortyzują każdy Twój krok. Dopasowanie i mieszanka materiałów pomaga zapobiegać powstawaniu pęcherzy i zapewnia, że skarpetki zawsze pozostają na swoim miejscu, niezależnie od tego, jak się poruszasz. Twoje stopy będą dłużej świeże, a zmęczenie przyjdzie znacznie później.
Cechy charakterystyczne modelu 3.0:
anatomiczny kształt i dopasowanie zapewnia niezrównany komfort noszenia,
trzystopniowa medyczna kompresja - zwiększa efektywność i przyspiesza regenerację,
nowy design i koncepcja kolorystyczna,
jony srebra - zapewniają redukcję nieprzyjemnych zapachów,
system SMART DRY – ulepszona struktura materiału zapewnia większą powierzchnię, co skutkuje bardziej wydajną termoregulacją obszarów o zwiększonej temperaturze i szybciej usuwa wilgoć,
konstrukcja EXTREME AIR - w upalne dni wilgoć zostaje odprowadzona na zewnątrz pozostawiając skórę suchą. W zimne dni dopływ powietrza jest blokowany zapewniając izolację i chroniąc ciało przed niskimi temperaturami,
system kontroli wilgotności FERAN ICP - dzięki powłoce FERAN ICP włókna poliamidowe w efekcie wielokrotnych prań nie tracą właściwości hydrofilowych, co zapewnia trwałe efekty w zakresie kontroli wilgotności. Powłoka dodatkowo ułatwia usuwanie plam a efekt antystatyczny zapewnia wysoki komfort noszenia,
system kontroli temperatury HEIQ SMART TEMP - rewolucyjna technologia dynamicznego chłodzenia w efekcie wydzielania potu i wzrostu temperatury. Utrzymuje chłód, suchość i wygodę a miejscowa temperatura skóry może ulec obniżeniu nawet o 2°C,
asymetryczna część palcowa- dla lepszego dopasowania anatomicznego, zapewniając komfort i wygodę noszenia.
Ulepszone nici ułatwiają biologiczną aktywność komórek skóry, dzięki czemu nie ma uczucia swędzenia lub drapania. Opaski dopasowują się idealnie do anatomi łydki oraz stopy. Użyte w materiale jony srebra zapobiegają przed rozwojem bakterii powodujących nieprzyjemny zapach. Skarpety i opaski CEP są dobierane na podstawie obwodu łydki a nie długości stopy. Kompresja firmy CEP powoduje aktywację mięśni przed wysiłkiem, poprawę krążenia krwi, zwiększenie ilości tlenu dostarczanego do mięśni, szybsze usuwanie resztek przemiany materii podczas oraz po wysiłku, zmniejsza ryzyko wystąpienia skurczy, mniejsze ryzyko pojawienia się żylaków, stabilizację wiązadeł i ścięgien, minimalizuje ryzyko wystąpienia zakrzepicy.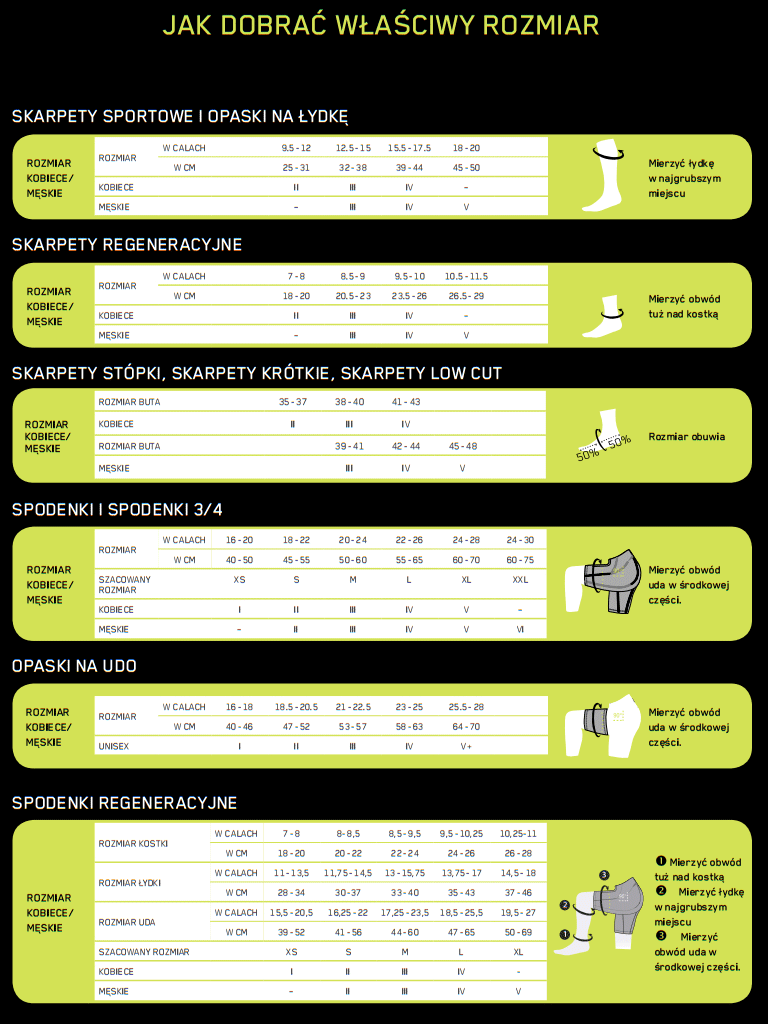 Technical Specifications
CEP Low Cut Men's Socks 3.0 White
Opinions about the product
This product has no reviews yet
2023-12-10 - it could be you!
Be the first to write a review about this product.